Minneapolis Center - Additional Instructions
Minneapolis Center operates a bit differently than Juneau Center. At MPLS Center, pilots bid for open flights and then fly those flights as they normally would for Juneau Center flights. Your company earns revenue by making profiable flights just as with Juneau Center, but you will also be charged a monthly Gate Fee at MSP Center. An additional penalty fee is charged if you bid for a flight and fail to fly the flight in the allotted time because your being 'assigned' that flight prevents other pilots from that flight opportunity. There's only a couple of steps to get flying:
From the main Econ-2018, page go to the Regional Activity Reports Page for Minneapolis Center :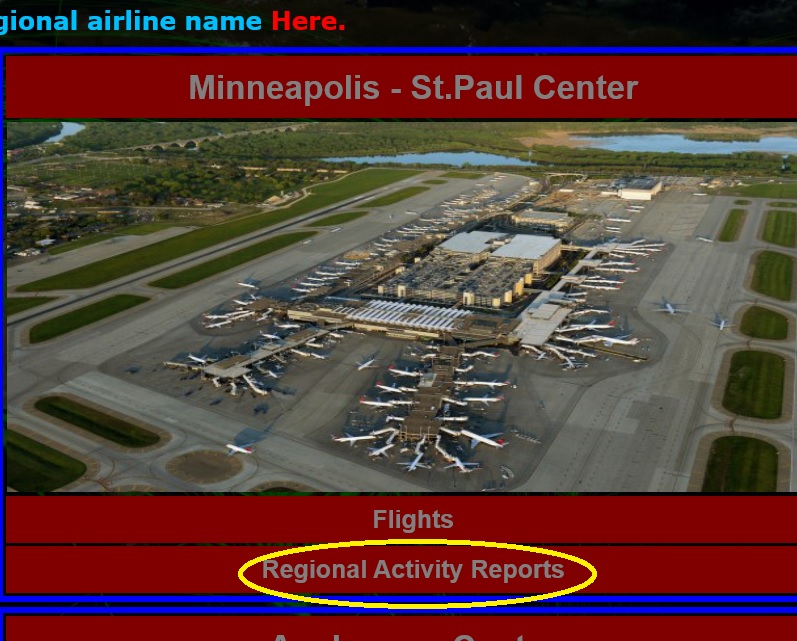 On the Regional Activity Reports Page, you will find the Regional Airlines list. When you are logged in and go to this page, you will see the button to create/edit or delete your regional company as shown below, along with a blank income statement. Even if you did flights in Juneau Center, you still must 'create' a company to do flights here in MSP center. Note that if you change the name of your company in MSP center it also changes the name of your company listed in Juneau center (they both use the same name information).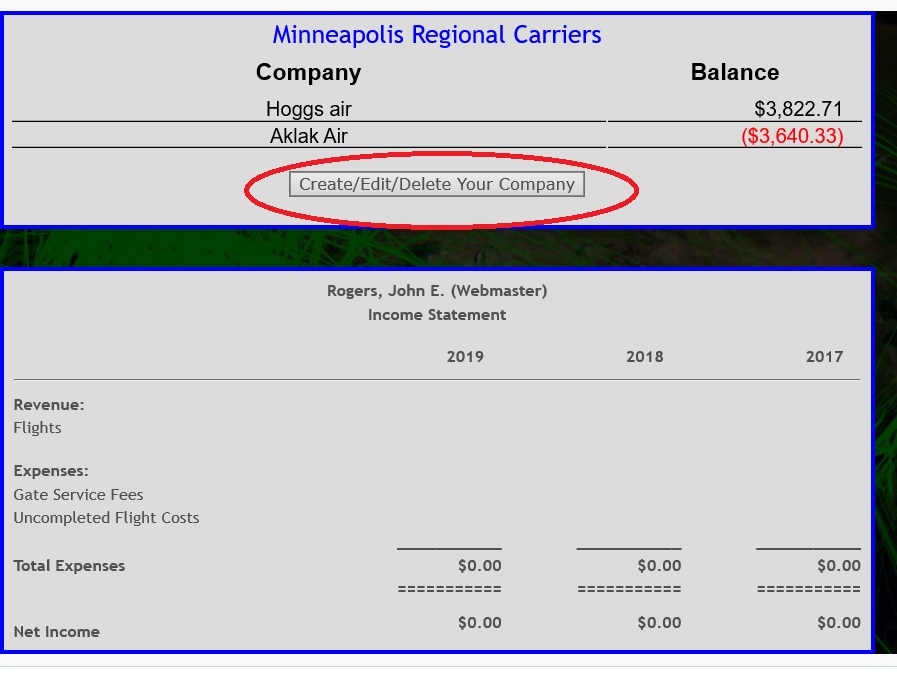 Click on the button to "Create/Edit/Delete Your Company" and you will be presented with the following screen: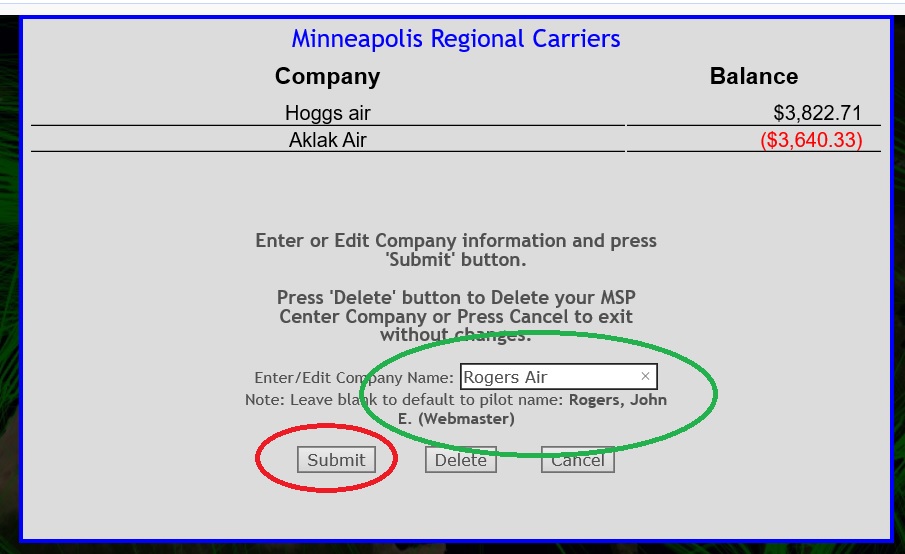 You are now presented with a data entry window and 3 buttons. If you flew Juneau Center Econ flights and named your company there, that name will appear in the data entry window, just as "Rogers Air" shows up here because that's the company name I used in my Juneau flights. If you didn't name a company when flying Juneau Center flights or you've not flown any Econ flights yet, the data entry window will be blank (empty). Regardless - the notation under the entry box will show what your default company name will be if you leave the entry window blank - ie. your pilot name will be used as your company name.
To create the company using either a blank entry window or by typing a company name in the entry window, you click the "Submit" button as shown in the picture. The "Cancel" button will cancel this process without making any changes. If you click the "Delete" button, your company (if you created a MSP Center company) will be deleted along with all financial history of your company, and you will have to recreate a company and start all over again if you wish to fly more MSP Center flights.
Once you've created your company, your company should appear in the company listing at the top of this page as shown below(you may have to reload the page to see it).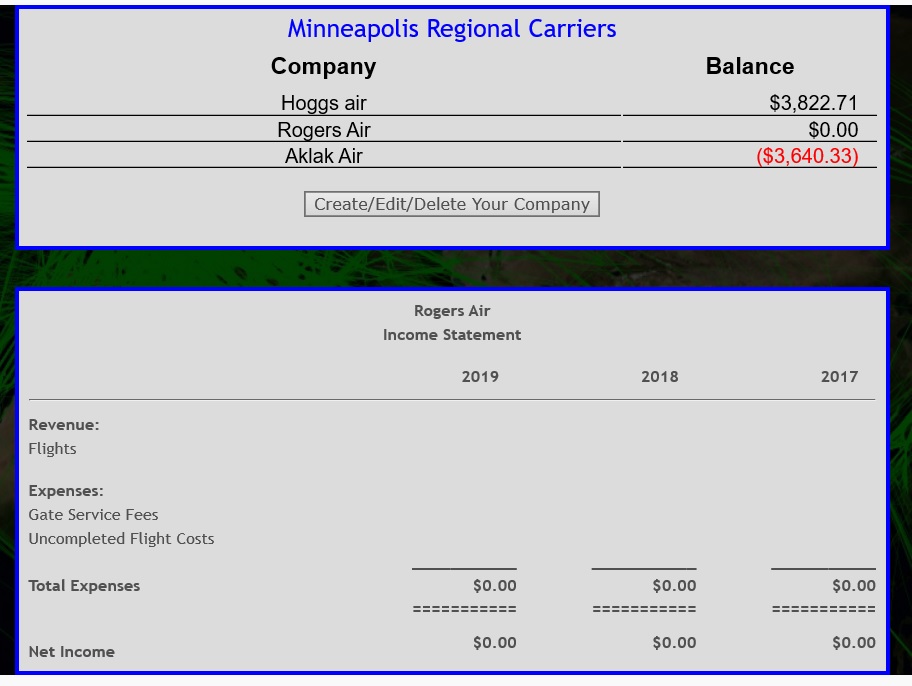 When you're done creating your company, head over to the Flights page and check for available flights to fly.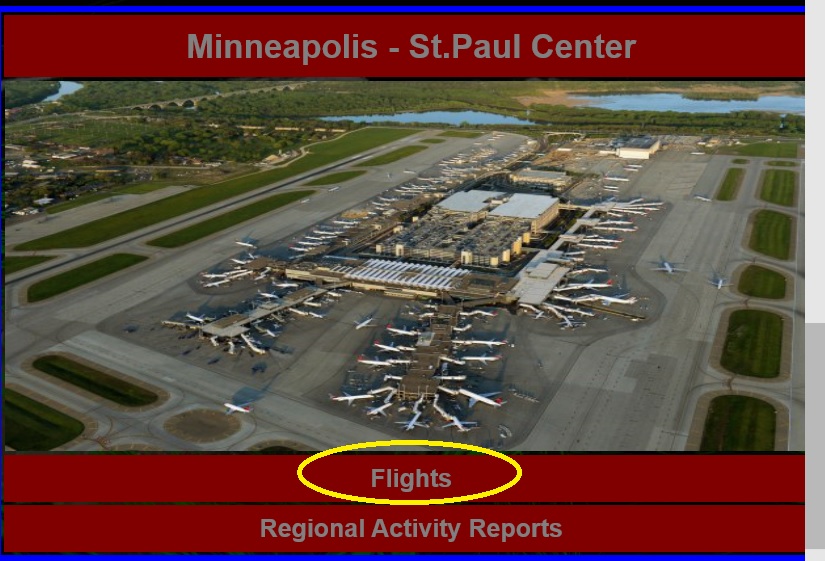 Currently the flights are in sets of 3 that are updated every 12-hours at 8am and 8pm Central time. This will allow our Euro pilots to have a shot at some flights too. The "Time Remaining" column shows the time remaining to fly these flights before the flights expire and a new set is generated.
As with the Activity Page, when you're logged in on the Flights page, you will see an option window - in this case to bid for a flight. You can only bid for one flight at a time and must fly that flight before bidding a second. All bids are final and you must fly the flight within the remaining time shown on the board. If the remaining time is less than the expected flight time, don't bid on it because the flight window will close before you can file your pirep and you'll be penalized for not completing a bid flight. You also cannot bid a flight that shows "Assigned" to you or another pilot, or one that shows "Completed" by you or another pilot. Only "Open" status flights are available to be "bid" (selected) by you.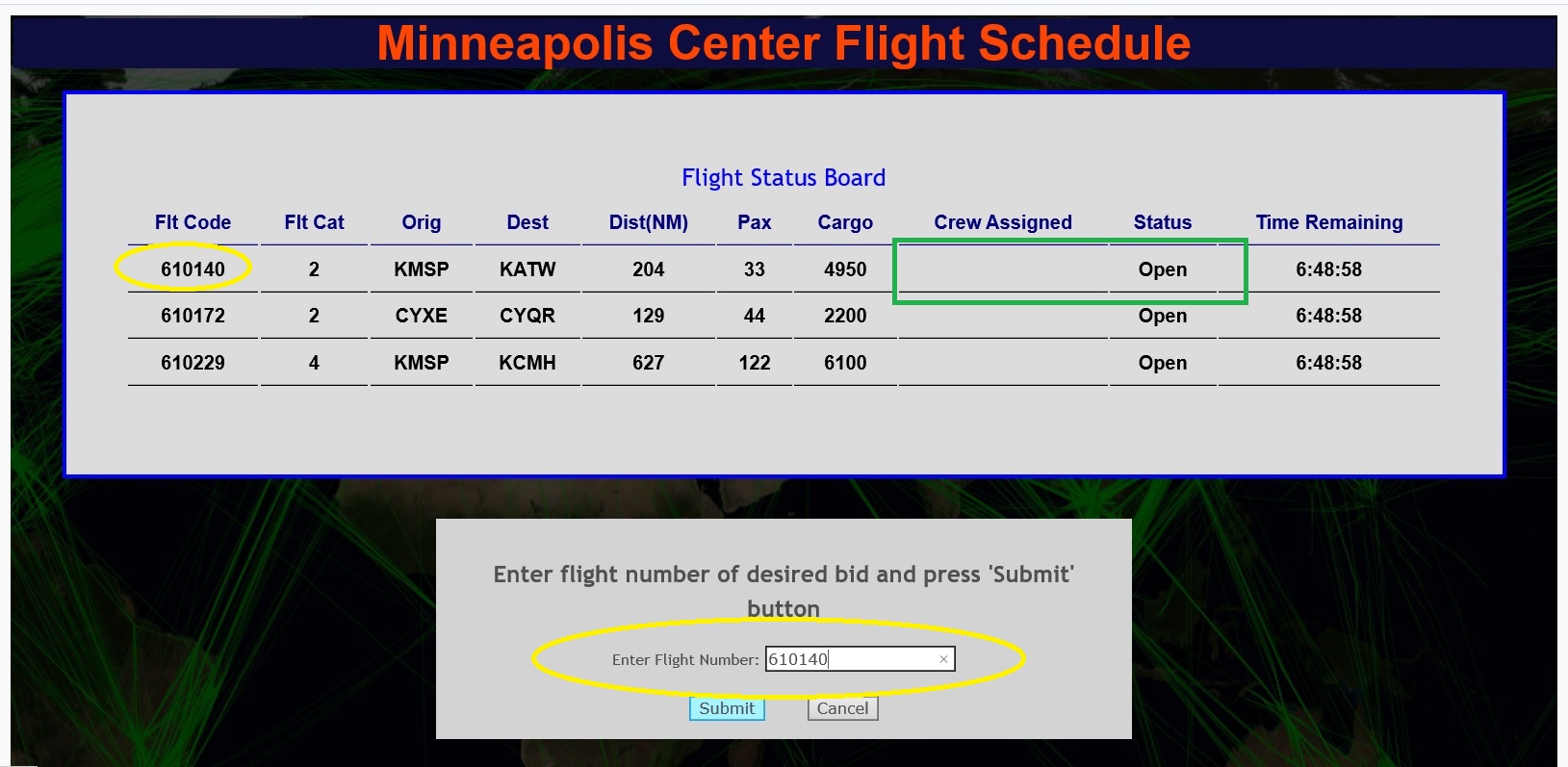 To bid a flight, simply type the flight number in the entry window and push the "Submit" button. "Cancel" will clear the entry form without making changes. All flights - even if they fail to register for the Econ flight will still show in your log book and you'll get credit for the flights. Just as with the Juneau Center, your flights will not register if the PAX count, Cargo Wgt, or flight number differ from what is shown on the flight you were assigned.
So - Make sure you complete these fields correctly on SPAACARS before starting your flight!
A successful bid will replace the status with "Assigned" and when completed, the flight will show "Completed" in the Status field on the Flights board once your pirep is filed via SPAACARS if you did everything correctly.

That's all there is to it! Now go fly your flight using SPAACARS with Econ Mode set. Your pirep will be filed automatically upon landing. You can re-check The Flights page at the Minneapolis Center to verify that the status of your flight has changed from "Assigned" to "Completed". If it didn't change - make sure that the flight number, pax count, and cargo wgt for the flight you completed exactly match that as shown on your assigned flight.